Alessandra Corine Ambrósio (often spelled without the diacritic mark; born April 11, 1981)[1] is a Brazilian model. Described by Tyra Banks as "the future of the modeling world",[2] Ambrosio is best known for her work with Victoria's Secret and was chosen as the first spokesmodel for the company's "PINK" line. Ambrosio is currently one of the Victoria's Secret Angels and the former face of the UK company Next.[3]
Aside from modeling work, Ambrosio represents as the National Ambassador for the National Multiple Sclerosis Society.[4] Ambrosio was also selected by AskMen.com as Number 2 out of the "Top 99 Most Desirable Women of 2008".[5]
Early life
Edit
Ambrosio was born in Erechim, Brazil on April 11, 1981. Her parents, who are of Italian and Polish descent, own a petrol station.[6][2] Ambrósio was just eight years old when she decided that she wanted to be a model, after seeing a picture of top covergirl Karen Mulder in a magazine: "I wanted to be like her", she recalls. She enrolled at a modelling class at the age of 12 and at the age of 14 she was one of 20 finalists for an elite modelling competition in Brazil.[2] Ambrosio was always insecure about her large ears and at eleven had cosmetic surgery to get her ears pinned back, though two years later she suffered complications.[7] In 2006 she appeared on The Tyra Banks Show, and said that the surgery was a bad experience and has discouraged her from ever getting plastic surgery again.[8]
Modeling career
Edit
When Ambrosio was 12 years old, she enrolled in modeling classes, then began modeling for Dilson Stein at age 15.[2][9] Winning Brazil's Elite Model Look started her modeling career in earnest.[10] Her first notable modeling job was the cover of Brazilian Elle magazine.[11] Elite passed along some of her Polaroids to Guess which led her booking the Millennium GUESS? campaign along with friend and fellow Brazilian Ana Beatriz Barros.[12] She has since worked with brands including Revlon, Christian Dior, Giorgio Armani, Rolex, Oscar de la Renta, Gucci, Escada, Rocco Barocco, Calvin Klein and Ralph Lauren, as well as the Pirelli Calendar.[2][13] She has walked the catwalks for designers such as Prada, Laura Biagiotti, Christian Lacroix, Shiatzy Chen, Byblos, Fendi, Issey Miyake, Kenzo, Christian Dior, Nicole Miller, Ralph Lauren, Giorgio Armani, Vivienne Westwood, and Oscar de la Renta.[2][9] She has appeared on over 50 international magazine covers, including Cosmopolitan, Elle, GQ, Harper's Bazaar, Marie Claire, Ocean Drive, Vogue and the only model to appear on the cover of Glamour in the United States in 2006.[6][10]
In 2004, Ambrosio launched her line of swimwear called Alessandra Ambrosio by Sais, a division of Rosa Chá. It sold 10,000 units in only its first month on the market.[9][14][15]
Ambrosio's best-known collaboration is with American lingerie brand Victoria's Secret. She appeared in the Victoria's Secret Fashion Show for the first time in 2000. By 2004, she was selected as the first spokesmodel for the Victoria's Secret "PINK" line[6] and became a contracted "Angel." In 2005, she notably walked the Victoria's Secret Fashion Show runway wearing lingerie made entirely out of candy.[16] Ambrosio then garnered attention in the 2008 edition of the Fashion Show, walking the runway only three months after giving birth to her first child.[17] She opened the show the following year.
Ambrosio's Angel status has brought her to the public's attention, often being cited by the popular media as one of the world's sexiest women.[18] She was chosen as one of People magazine's annual "100 Most Beautiful People in the World," in May 2007, along with fellow Angels.[19] Ambrosio is among the world's top-earning models.[20][21]
Ambrosio was the face for the UK company Next[3] and starred in their first television campaign in 12 years.[22] She is also signed to Storm Model Management in London.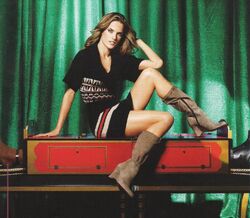 On the July, 2009 cover of Marie Claire, Ambrosio appeared in a spread with actor Sasha Baron Cohen to promote Baron Cohen's 2009 film Brüno.[23] In August 2009, she also appeared at the Autumn/Winter 2009 Fashion Fest show for Mexican department store chain Liverpool. The theme of the show was "My Magic: Secretos Por Descubrir", and the promotional photographs of the event featured Ambrosio both posing with and taking part in a number of magic illusions, including being levitated, zig-zagged and sawed in half.
Television appearances
Edit
Ambrosio has made several television appearances, notably a cameo as herself on HBO's Entourage along with Izabel Goulart; The Late Late Show with Craig Kilborn; Late Night with Conan O'Brien; as guest judge on Project Runway season 2: Team Lingerie and The Tyra Banks Show where she was a guest twice. She appeared alongside TV personality, Regis Philbin in a worldwide commercial for Hummer H2. In 2006, she had a cameo on the box-office hit movie, Casino Royale appearing briefly as Tennis Girl #1.[10][24]
Ambrosio guest-starred on How I Met Your Mother (episode: "The Yips") on November 26, 2007 with her fellow Victoria's Secret Angels Adriana Lima, Selita Ebanks, Marisa Miller, Miranda Kerr, and Heidi Klum.
Personal life
Edit
She is very conscious of her figure and works out with her Brazilian trainer doing the Brazilian Butt Lift, which is a mix of samba, capoeira and aerobics.[25]
When Ambrosio first came to New York, Gisele Bündchen lent her apartment for two weeks and Adriana Lima helped her translate English.[26]
She described her typical week as jetsetting from one country to another for photo shoots and in between she has some phone interviews. She still visits her family in Brazil regularly and calls Erechim, Brazil her favorite place in the world and having traveled the world has not yet convinced her otherwise.[2]
Ambrosio's best friend is fellow Brazilian model Ana Beatriz Barros.[27]
On May 12, 2008, Ambrosio married California businessman Jamie Mazur, having become engaged earlier in the year. On August 24, 2008, Ambrosio and her husband had their first child together, a daughter named Anja Louise Ambrosio Mazur,[28] in Florianopolis, Brazil.
In December 2011, Ambrosio and her husband revealed that they were expecting their second child.
Her nickname is 'Alé'.
She has pierced ears and a pierced navel.
Her favourite designer is Dolce & Gabbana.
Her favourite sport is surfing.
She practices Capoeira.
Her favourite TV shows are 24 hours and Os Normais.
Her favourite books are The Da Vinci Code, Lord of the Rings, The Time of the Witches, The Man From Avalon, Brida.
Her favorite music bands are Nirvana, Pearl Jam, INXS, Jack Johnson, Ben Harper. She likes Rock, Electronic, Hip Hop, Reggae.
Her favorite movies are Stealing Beauty, Kama Sutra, Natural Born Killers.
Her favorite food is Polish, Gaucha, Japanese, Thailandese.
Her passions are Music, Sunglasses, Barbie, Lua (the Moon).
Ranked as #84 in FHM's "100 Sexiest Women in the World 2005" special supplement. (2005)
Named #56 in FHM magazine's "100 Sexiest Women in the World 2006" supplement. (2006)
She recently had a cameo in the new James Bond film Casino Royale as an attractive tennis player who eyes Bond as he walks by her.
Her favorite place in the world still remains her tiny hometown, and having traveled the world has not yet convinced her otherwise.
References
Edit
↑ 2.0 2.1 2.2 2.3 2.4 2.5 2.6 "Alessandra Ambrosio interview with Hello Magazine" Hello Magazine. Retrieved on 2007-05-11.
↑ 3.0 3.1 "Alessandra Ambrosio - Next" Next. Retrieved on 2007-05-17.
↑ "Alessandra Ambrosio, Official Spokesperson of National Multiple Sclerosis Society". National Multiple Sclerosis Society. Retrieved on 2007-05-11.
↑ "Top 99 Women 2008 Edition". Ask Men. http://www.askmen.com/specials/2008_top_99/alessandra-ambrosio-2-1.html

. Retrieved 2002-01-31

.

 

↑ "Alessandra Ambrosio Facts". TV.com. Retrieved on 2007-05-11.
↑ 9.0 9.1 9.2 "Alessandra Ambrosio - AskMen". AskMen. Retrieved on 2007-05-14.
↑ 10.0 10.1 10.2 elite spotlight: Alessandra Ambrosio accessed 2007-10-07.source: elite clips.
↑ "Alessandra Ambrosio Official Site Profile". Official Site. Retrieved on 2005-02-11.
↑ "Yahoo! Model of the month by Guess?". Yahoo!. Retrieved on 2007-06-14.
↑ Pirelli Calendar 2003 accessed 2007-06-18.
↑ "Top 25 Sexiest Models". http://models.com/top25sexiest/top.html?fnumber=10&lnumber=6

. Retrieved 14 November 2007

.

 

↑ "Of The Minute Industry Report: Elite Plus". http://models.com/oftheminute/?p=1296

. Retrieved 5 October 2007

.

 

↑ Alessandra Ambrosio #6 on Askmen. accessed 2007-06-19.
↑ "#5 Alessandra Ambrosio - FHM 100 Sexiest 2007", FHM. Retrieved on 2007-05-11.
↑ "The Models of Victoria's Secret", People. Retrieved on 2007-05-11.
↑ Forbes Top Fifteen Models. The Telegraph. Retrieved on 2007-06-16.
↑ Forbes Top Fifteen Models. Forbes. Retrieved on 2007-06-16.
↑ "Next launches TV campaign". Source: mad.co.uk | Author: Nikki Preston Retrieved on 2007-09-13.
↑ "See our cover star, Brüno, a.k.a. Sacha Baron Cohen work it for the camera". Marie Claire.co.uk. 2009-06-04. http://www.marieclaire.co.uk/news/celebrity/343847/see-our-cover-star-br-no-a-k-a-sacha-baron-cohen-work-it-for-the-camera.html

. Retrieved 2010-04-04

.

 

↑ Alessandra Ambrosio Filmography. Accessed 2007-06-14.
↑ Alessandra in Brazil glamour.com. Retrieved on 2007-09-28.
↑ Triggs, Charlotte (August 25, 2008). "Model Alessandra Ambrosio Has a Girl". People Magazine. http://www.people.com/people/article/0,,20221040,00.html

. Retrieved January 30, 2009

.

 
Community content is available under
CC-BY-SA
unless otherwise noted.