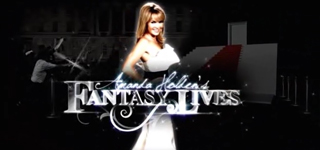 Amanda Holden's Fantast Lives was a four-part TV series aired on ITV during early 2010, in which actress and TV presenter Amanda Holden tried out four of her dream jobs.
Each episode saw Amanda plunge herself into a different fantasy life as she set out to uncover the hard work, day to day reality and grit that lies beneath the glamorous public face of each role. With only a few days of training and practice, Amanda had to learn the details of the job sufficiently to be able to perform key parts of the job like an experienced professional.
Episodes
Episode 1 - Showgirl
Original air date: January 26, 2010.
Amanda travels to Paris, France, to try her hand at becoming a Parisian showgirl. There, she joins the famous Bluebell Girls at the Lido where, after many hours of hard rehearsals, she joins them for one of their shows.
Episode 2 - Country Singer
Original air date: February 2, 2010.
Amanda takes on the mantle of Country singer, getting tips from the legendary Kenny Rogers before organising and performing in a Country extravaganza in Austin, Texas.
Episode 3 - Stuntwoman
Original air date: February 9, 2010.
Amanda learns about becoming a Hollywood stuntwoman. She meets top female stunt performers who have doubled for some of Hollywood's biggest stars. Under their supervision, she learns to perform a range of dangerous stunts, culminating in a terrifying 50-foot "high fall" in which she has to jump from the top of a five-storey building without a safety wire.
Episode 4 - Magician's Assistant
Original air date: February 16th, 2010.
Amanda travels to Las Vegas to become an assistant in one of the city's famous magic shows. There, she meets and gets advice from famous magician's assistants such as Jinger Leigh, and finds out all about being a "box jumper". With only two weeks of preparation, she must get ready to perform as the principal assistant to magician Brandon Silverfield in his stage show, which culminates in her being cut in half in his spectacular Impossible Sawing illusion.
External links
Community content is available under
CC-BY-SA
unless otherwise noted.