Claudia Schiffer is a German model who reached supermodel status during the 1990s. She has also appeared in around ten motion pictures, two music videos, and often acted as an assistant to magician David Copperfield in his 1990s stage shows.
Biography
Claudia Maria de Vere Drummond (born and known professionally as Claudia Schiffer) was born August 25, 1970 in Rheinberg, North Rhine-Westphalia. She is the daughter of Gudrun and Heinz Schiffer, a lawyer.[1] She has two brothers, Stefan and Andreas, and one sister, Ann Carolin.[2]
Schiffer said that she was popular in high school, but felt socially overshadowed by the other girls in her class.[2] She has revealed that because she was so tall, she became very shy and did not want to be noticed. She was also subjected to jealousy by others as she came from a wealthy family that was well-known locally.[2] Schiffer became fluent in English and French.[2]
She originally wanted to become a lawyer and used to work in her father's law firm.[3] She later dropped these aspirations when, in October 1987 at seventeen, she was spotted in a nightclub in Düsseldorf by Michel Levaton, the boss of Metropolitan Model Agency who signed her up to become a model.[4]
Modeling and fashion
She completed her education and then began to work as a model. She flew out to Paris for a trial photo shoot and soon after she appeared in the cover of French Elle, after being well received in Paris. After several other magazine appearances, she quickly achieved "supermodel" status when she was selected by Karl Lagerfeld to become the new face of Chanel.[4] Schiffer went on to become world-famous, recognizable with her blue eyes, blonde hair and tall figure, standing at 1.80m (approx. 5 ft 11 in.).[5]
In the early 1990s, she starred in highly publicised Guess? jeans adverts in North America which created essential publicity for Schiffer.[4] She was presented on the November 1999 Millennium cover of American Vogue as one of the "Modern Muses".[6] Paul Marciano said in E! Forbes Top 15 Supermodel Beauties Who Made Bank, "Guess name became really much more known around the world because [of] Claudia". Soon after appearing in the campaigns, her name was launched worldwide, appearing on five magazine covers in the United States and seven covers around Europe. Schiffer joined Thomas Zeumer's Metropolitan Models[7] and was contracted to model for Revlon. She also became involved in modelling for several catalogues. Schiffer has done catwalk modelling for Versace, Jil Sander, Dolce & Gabbana, Ralph Lauren and Valentino.[4][2][8] Schiffer was the first model to make the covers of Vanity Fair, Rolling Stone, The New York Times and People.[4] She has also appeared many times on covers of Vogue, Harper's Bazaar, Cosmopolitan, Tank Magazine and Time.[2][9]
Schiffer has also been the face of Spanish clothes store, Mango[8] and Accessorize,[10] and had her ears pierced especially for her Autumn/Winter 2006 Accessorize advertising campaign in 2006.[11] Schiffer still holds a contract with L'Oréal and Ebel watches,[8] and her billboard picture for Kenar has also hung over millions of tourists at Times Square.[2] Since 1990, she has created a swimsuit calendar each year which she stars in and designs herself.[2]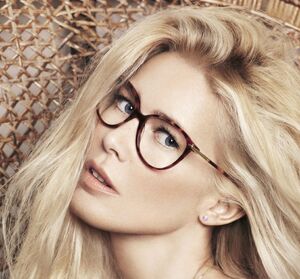 Schiffer later appeared in advertisements for Pepsi, and has danced with a cartoon version of Mickey Mouse in advertisements promoting Fanta for an estimated $2 million.[2] From her appearances in a 1998 Citroën advertisement, she earned a reputed £3 million. Karl Lagerfeld filmed her for a Dom Perignon campaign, some ten years after her first appearances in Chanel adverts.[12] In 2012, she posed again for Guess black and white ads marking the brand's 30th anniversary.[13]
She is signed to several agencies, including d'management group in Milan and 1/One Management in New York City, Simon Fuller's 19 Entertainment in London for her non modelling interests, and her mother agency 'Model Management' in Hamburg.[14]
Schiffer was a judge on Fashion Fringe 2011.
Claudia Schiffer Cashmere
Schiffer launched her eponymous cashmere collection during Paris Fashion Week in March 2011.[4] The Autumn–Winter 2011 season saw her fashion design debut and has been followed by a Spring–Summer 2012 collection.[15] The collection is sold globally in department stores and high-end boutiques. Schiffer is the creative director of the brand.[2][16]
Media appearances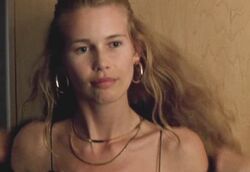 Schiffer has appeared in a number of films and music videos. Her first appearance in film was in the children's movie Richie Rich in 1994 and then starred opposite Dennis Hopper and Matthew Modine in The Blackout.[17] She went on to appear in Friends & Lovers, Black and White and Desperate But Not Serious in 1999, In Pursuit and Life Without Dick in 2001, and then Love Actually in a semi-cameo role. Schiffer has made several other cameo appearances in films, including Ben Stiller's Zoolander in 2001.[3]
Schiffer has appeared on several talk shows and sitcoms, such as Larry King Live, The Late Show with David Letterman, Late Night with Conan O'Brien, Dharma & Greg and Arrested Development. She was also in boyband Westlife's music video for "Uptown Girl", and in 2000, she made a cameo appearance in Bon Jovi's video for "Say It Isn't So".
She has released four exercise videos, entitled Claudia Schiffer's Perfectly Fit, which were successful and reached the bestsellers list.[2] Schiffer has hosted the French Fashion Awards and the World Music Awards in Monaco.[2]
With fellow models Christy Turlington, Naomi Campbell, and Elle Macpherson, Schiffer was joint owner of a chain of restaurants called the Fashion Café in 1995.[3] Schiffer remains a prominent figure in German society and helped present and carry the trophy with Pelé during opening ceremonies at the 2006 World Cup. She also presented Prince William with a polo trophy in 2002.[1]
When talking about the model profession at present, she said: "Supermodels, like we once were, don't exist any more." She has said Gisele Bündchen was the only person who comes close to earning the supermodel title.[18]
Personal life
Early in her career, Schiffer was romantically linked to a number of celebrities including Bon Jovi guitarist Richie Sambora, Prince Albert of Monaco and singer Peter Gabriel.[19]
From 1994 to 1999, Schiffer was married to the American illusionist, David Copperfield. They first met in October 1993, when Schiffer attended one of Copperfield's shows and he invited her on stage to participate in a mind-reading act and his "Flying" illusion. A month later, she joined Copperfield on an appearance on live German TV. During this appearance, Schiffer assisted Copperfield in a traditional "Thin Model" version of the famous stage illusion, "Sawing a Woman in Half", with Schiffer being sawed in half by Copperfield and the show's host, who used a large two-person saw to cut her in half. Having sawed Schiffer in half and separated her halves, Copperfield then tickled her feet, causing her to scream with laughter and complain (in German) that she was ticklish. While she was still in two pieces, she was interviewed by the show's host, who asked her what it felt like to be sawed in half. Copperfield then asked her out on a date and, after she agreed, he finally put her back together in one piece. Shortly after this, they became engaged, and married the following year. While they were married, and when not otherwise occupied with her modelling work, Schiffer often joined her husband in his stage shows as a special guest assistant in a number of illusions. During the show, she would be levitated high into the air, made to vanish and re-appear, beheaded by a full-sized guillotine, and finally sawed in half.[20] Usually, this would be in his Clearly Impossible illusion, although on occasion he would use his antique Buzz Saw illusion that had formerly belonged to actor and magician Orson Welles. On at least one occasion, he performed his "Blade" vertical sawing on her. She also appeared in Copperfield's 15 Years of Magic special, playing the role of a reporter interviewing him about his career and the existence of true magic.[21][22][23]
"Many have seen the classic magic trick in which a woman in a box is sawed in half onstage. But how many have seen the same trick performed using a glass box? And what if the woman in the glass box is one of the most beautiful and famous in the world? That's exactly what the audience at the Orange County Performing Arts Center in Costa Mesa saw yesterday at the climax of the latest show from superstar magician David Copperfield. In addition to his usual bevy of glamorous assistants, Copperfield was joined in the show by his supermodel wife, Claudia Schiffer, and it was she who ended up quite literally beside herself after Copperfield sawed her in half in the most impossible-looking version of the famous illusion the audience had ever seen... Having locked his wife inside a glass-sided box, Copperfield and an audience member sawed her in half and pulled her apart - Much to the amazement of the rest of the audience, who had an unobstructed view of her body within the box at all times throughout the illusion." - The Los Angeles Times, December 19, 1995.
While they were married, she often acted as the test assistant in many of Copperfield's new illusions while they were under development. In addition to some which later featured in his TV specials and stage shows, this also included a number of other illusions which have never been performed publicly. Copperfield also devised a close-up magic trick especially for her to perform, in which she used a blunt darning needle to pass a length of knitting wool through her (as it was then) unpierced earlobe.
In 1997, Copperfield and Schiffer sued Paris Match for US$30 million after the magazine claimed their relationship was a stunt, that Schiffer was paid for pretending to be Copperfield's wife and that she didn't even like him.[24][25][26] In 1999, they won an undisclosed sum and a retraction from Paris Match.[27] Herbert L. Becker, who Copperfield asked to give testimony regarding the validity of the relationship, gave convincing testimony that the relationship was real. Copperfield's publicist confirmed that while Schiffer had a contract to appear in the audience at Copperfield's show in Berlin where they met, she was not under contract to be his "consort".[28]
Following the end of her marriage to Copperfield in 1999, Schiffer became romantically involved with the heir to the Green Shield Stamp empire, Tim Jeffries.
On May 25, 2002 she married film producer Matthew de Vere Drummond, né Matthew Vaughn, son of George Albert Harley Drummond (also known as George de Vere Drummond). Because her father-in-law and husband are both in the line of succession to the Earldom of Oxford and Mortimer, it is possible that Claudia could one day become the Countess of Oxford. Following their marriage, Claudia took her husband's name and is now officially known as Claudia de Vere Drummond, although she continues to be known as Claudia Schiffer for professional purposes.
Claudia and Matthew have three children: a son, Caspar Matthew De Vere Drummond, born on January 30, 2003 and two daughters, Clementine, born on November 11, 2004, and Cosima, born on May 14, 2010. All three were born in London, where Claudia and Matthew now live.
Schiffer had two significant problems with harassment in the past. In 2002, an Italian kitchen porter was arrested after making nine visits to Schiffer's £5 million Coldham Hall[29] mansion near Bury St Edmunds, Suffolk, attempting to see her. Charges against him were dropped however, as he was sectioned under the Mental Health Act.[30] He believed that the Pope had told him to marry Schiffer.[31] In 2004, a Canadian man was accused of harassing Schiffer, also at her mansion in Suffolk. He called at her mansion in the hope of seeing her.[30] He also repeatedly left letters at her home.[32]
Filmography
Acting:

Playing Herself:
Í skóm drekans (2002) .... Herself (presenter)
666 - Traue keinem, mit dem Du schläfst! (2002) .... Herself
Zoolander (2001) .... Herself
The Sound of Claudia Schiffer (2000) .... Herself
Beautopia (1998) .... Herself
1997 VH1 Fashion Awards (1997) (TV) .... Herself
An Audience with Elton John (1997) (TV) (uncredited) .... Herself
Happy Birthday Elizabeth: A Celebration of Life (1997) (TV) .... Herself
The 68th Annual Academy Awards (1996) (TV) .... Herself - Co-Presenter: Best Costume Design
Catwalk (1996) .... Herself
Perfectly Fit (1996) (V) .... Herself
Around Claudia Schiffer (1995) (TV) .... Herself/Interviewer
Schönsten Frauen der Welt - Claudia Schiffer, Die (1995) (TV) .... Herself
Prêt-à-Porter (film)|Prêt-à-Porter (1994) (uncredited) .... Herself
Noche de tu vida, La (1993) (TV) .... Herself - Hostess

Notable TV Guest Appearances:
Corazón de... 19 July 2005 .... Herself
Wetten, dass..? episode: "Wetten, dass..? aus Klagenfurt" (episode # 1.147) 28 February 2004 .... Herself
Arrested Development (TV series)|Arrested Development (uncredited) in episode: "Charity Drive" (episode # 1.5) 30 November 2003 .... Balboa Towers Security
Dharma & Greg episode: "This Diamond Ring" (episode # 5.19) 2 April 2002 .... Gretchen
Dharma & Greg episode: "I Think, Therefore I Am in Trouble" (episode # 5.16) 19 March 2002 .... Gretchen
Wetten, dass..? episode: "Wetten, dass..? aus Braunschweig" (episode # 1.133) 26 January 2002 .... Herself
The Howard Stern Radio Show 7 October 2000 .... Herself
Russell Gilbert Live (episode # 1.11) 17 June 2000 .... Herself
Late Night with Conan O'Brien 13 April 2000 .... Herself
Futurama (voice) in episode: "A Head in the Polls" (episode # 2.7) 12 December 1999 .... Herself
Caiga quien caiga 19 October 1997 .... Herself
Mad TV (episode # 1.17) 6 April 1996 .... Herself
De tú a tú 18 February 1993
Wetten, dass..? episode: "Wetten, dass..? aus Basel" (episode # 1.70) 2 November 1991 .... Herself
Trivia
In 2006, at the age of 35, she had her ears pierced especially for the photoshoot for her 2006 Accessorize advertising campaign. Her contract for the campaign included an additional payment to cover the need for her to pierce her ears so as to be able to wear the pierced earrings she was required to model during the photoshoot. Since then, she has continued to wear pierced earrings, with her favorites being either a pair of small diamond studs, or a pair of large gold hoops.
She used to be a smoker, but gave up before her first pregnancy. Prior to that, she appeared in a number of photoshoots smoking cigarettes or cigars.
The version of the "Sawing a Woman in Half" illusion she performed with Copperfield is called "Clearly Impossible". In this version of the illusion, she would lay down on the "table", and her head and feet would be firmly held by members of the audience. She would then be covered by a special clear-sided box, from which her head and feet projected, and which allowed an uninterrupted view of her body throughout the illusion. Once her neck and ankles had been firmly locked in place by stocks, the audience member who had been holding her head would join Copperfield in sawing through her middle using a large two-person saw. After she had been completely sawed through, two large metal divider blades would be inserted through the cut and her two halves separated. As her feet had been firmly held by the second audience member all the time from before she was covered by the box, and because the box allowed her body to be clearly seen throughout the sawing through and separation, this allowed Copperfield to prove to the audience that she really had been divided into two pieces.
In addition to being sawed in half in Copperfield's Clearly Impossible illusion, she was also occasionally sawed in half in his antique version of the Buzz Saw illusion. This had previously belonged to actor and magician Orson Welles, who had used it to saw in half various celebrities including his wife Rita Hayworth and Marilyn Monroe.
She didn't learn to drive a car until she was 28, in May 1999, when she learned how to drive especially for appearing in TV adverts for Citroen cars.
Her measurements are 36C-24-36.
While at school, she spent two months in the UK as part of a cultural exchange programme between her school in Emmerich and King Edward the Seventh Secondary School in Kings Lynn, Norfolk.
Quotes
(Claiming that supermodels are now extinct) "In order to become a supermodel one must be on all the covers all over the world at the same time so that people can recognise the girls. That is, for now, not least because the advertising industry is very much taken nowadays by pop stars and actresses. Supermodels, like we once were, don't exist any more."
"The first time David sawed me in half, I did feel quite nervous. But it was a lot of fun to do, and I didn't feel a thing as he sawed through me and pulled me apart. Now, being sawed in half is definitely my favorite part of being in David's shows."
"I've met women who have way better bodies in their 40s because they've been working on them for all these years."
"I just love to shock people. Yesterday my friend said, "What a great top, is it Stella?" I said, "No, it's Mango, £25." I'm never head-to-toe in anything. I like to mix things from Prada, things from Marc Jacobs. But, you know, you can spend several thousand pounds on something, wear it for one day and the button falls off. I get really ****** off when you spend so much money."
"I really love working with David in his shows, especially being sawed in half. Feeling the saw go through me is such an amazing sensation, and it's always such a thrill to look over and see my legs on the other side of the stage and know I'm in two pieces…"
"I love wearing flat shoes, but I am not one of those girls who walks around in sweat pants and sneakers. I think I have something going on with shoes. Flat shoes. I buy them in several colors at once. High heels are for work and they have always been uncomfortable for me. I'm amazed when I see mothers wearing high heels. If your kids run off you can't run after them."
"I'm not really a big jewelry person - never have been. Normally, all I wear is my wedding ring, a watch, and a small cross on a chain around my neck. Of course, now I've got pierced ears, I'll often wear earrings too, but not always. If I do, its usually a pair of diamond studs my husband gave me, although if I'm feeling especially bold, I've got some big hoops I love to wear too."
"I like being a housewife but, unfortunately, I haven't mastered cooking. For all the other household jobs, I help out when I can."
"My favorite shoot from the early days of working with Guess was the Greece shoot. I remember I tried Ouzo for the first time and was ill for the rest of the day, but the pictures were amazing and we laughed so much."
"If there is a potential down-side to being a magician's wife, it's that your husband does keep wanting to saw you in half, stick swords through you, and that sort of thing. Fortunately, I really enjoy working with David as well as being married to him, so I don't mind at all when he does saw me in half, chop my head off or ask to do anything else like that to me."
"I love being pregnant. You can do whatever you want. You don't feel guilty, because I used to feel guilty about having a day off. And, you know, something really strange happened to me. Before my pregnancies, I was someone who had to watch their weight."
"I was really surprised when I had my ears pierced because I thought it would be quite painful, but I actually didn't feel it at all. All I felt as they did each ear was the gun grip my earlobe, then there was a loud 'click' sound that made me jump a little, and then I felt the grip of the gun release and a slight downward tug on my earlobe. Although I was expecting it, the one thing I didn't feel was the earrings actually going through my earlobes. And, even after they told me they had finished, I didn't really believe I actually had pierced ears until I looked in the mirror and saw the earrings there in my ears."
(On her debut fashion collection in 2011) "The idea of it is effortless chic - it's based on my life and the clothes I need. I have 15 minutes to get dressed in the morning before taking the children to school. I want to throw on clothes but still look chic, then I want to go from school to a meeting and then out for dinner by only changing a handbag or my earrings or something … It's simple and lovely to wear but still really chic and very high quality - that's all I wanted."
"My role model is Audrey Hepburn, I admire her a lot. I'd like to have her grace and charisma, which are qualities you acquire not in youth, but only with life experience. I'd like to be more happy with myself. I've never liked myself very much, I've always thought I should be more extroverted - more this, more that. But you have to learn to accept yourself as you are. That's my goal for the future."
(On her cravings during her third pregnancy) "I'd love a beer, that's all I've been craving. I didn't even like it before I was pregnant. Alcohol's bad for you when you're pregnant, but I just want beer."
"It did feel really strange the first time I changed earrings after I'd had my ears pierced, especially when I took out the little gold starter earrings that I'd been wearing for the past six weeks. Once I'd taken them out, I could finally see the holes I now have in my earlobes, and that just seemed really weird to see and feel them there."
"Personally, I love the 60s and 70s when hair was close to your face, not so much volume. I've had long hair since I was a kid, except in my early teens when I cut it to look like Nena from 99 Balloons. But then all the boys didn't like me anymore! I always preferred long hair and generally it's easier to work with as a model."
I love being in the countryside at home near Cambridge with my husband and kids. Playing tennis, backgammon, cards and croquet together is a perfect escape.
"Before I met David, I thought that when a magician saws a woman in half, she curls up in the top half of the box and they are fake feet sticking out of the other end of the box. But, since David has started sawing me in half, I know that's not what happens. When he saws me in half, I'm not curling up in the top part of the box, because I can't. The ankle stocks he uses when he locks me in the box are so tight that there's no way I can move my feet to curl up. Plus there's always someone from the audience holding on to my feet to stop me doing that. So that means that I'm still laying full-length in the box as he's sawing through it. And, of course, that means that he's also sawing through me as well. So, as impossible as it sounds, he really is sawing me in half and, when he moves the halves of the box apart, I really am in two pieces."
"I asked David if he could create a trick especially for me to perform for friends. So he came up with one where I take a blunt needle, thread it with some knitting wool, and pass both of them all the way through my earlobe. For most women, that's not much of a trick, because they've got pierced ears, but I haven't, so it shouldn't be possible for me to do it."
Gallery
References
External links
Community content is available under
CC-BY-SA
unless otherwise noted.