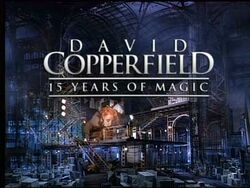 David Copperfield: 15 Years of Magic is a 1994 TV special featuring magician David Copperfield. It is Copperfield's 17th TV special, and is basically a compilation of clips from his previous TV specials presented in the form of an interview with him about his career and the possible existence of real magic. Playing the part of the reporter interviewing Copperfield is his then-wife and occasional special guest assistant, German supermodel Claudia Schiffer.
Cast
International version
While the US version had a run-time of 130 minutes (including advertising breaks), the international version shown in Europe and elsewhere had a run-time including advertising breaks of 150 minutes. This additional time was used to include extra interview footage including Copperfield showing Schiffer's reporter character his recently-purchased Buzz Saw illusion, which formerly belonged to Orson Welles. When Schiffer's character says that she's always wondered what it's like to be sawed in half and if the woman really is separated into two pieces, Copperfield replies that he can certainly help answer those questions for her if she really wants to know. They then reprise the Clearly Impossible sawing in half that they often performed in Copperfield's stage shows.
Awards
1 Emmy Win: Outstanding Individual Achievement in Editing for a Miniseries or a Special - Multi-Camera Production.
Community content is available under
CC-BY-SA
unless otherwise noted.