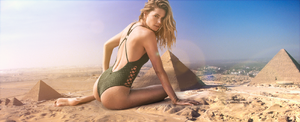 Doutzen Kroes (born January 23, 1985) is a Dutch model from The Netherlands.
Kroes was born in the town of Eastermar, in Friesland, The Netherlands. After graduating highschool (HAVO) she sent some snapshots to model agency Paparazzi in Amsterdam. Currently she is signed by DNA Models. Kroes has made the covers of Time, Vogue, Harper's Bazaar, and Numero. She also appears regularly in the Victoria's Secret catalog and was featured in their fashion show in 2005 and 2006. Kroes has also been in campaigns by Gucci, Calvin Klein, Tommy Hilfiger, Escada, Dolce & Gabbana, Valentino, Versace and Neiman Marcus.
In 2005, Kroes was selected as Model of The Year on Vogue.com by readers. Kroes was named spokesmodel for the Calvin Klein "Eternity" fragrance campaign in August 2005 and, in April 2006, she signed a three-year contract with L'Oréal Paris. Kroes can currently be seen in the company's commercials alongside Eva Longoria and Kerry Washington.
Trivia
[
]
One early fashion photoshoot assignment involved Kroes being sawed in half by a magician. Using the "Impossible Sawing" version of the famous illusion, Kroes was divided in two at the waist by a circular saw and her halves separated without any boxes or other coverings over her body. Although not normally performed using non-professional assistants, this version of the illusion was especially selected as the lack of coverings over the assistant allowed a clear view of the fashions Kroes was modelling.