Jennifer Ellison (born 30 May 1983) is an English actress, glamour model, television personality, dancer and singer. Ellison, who was born in Liverpool, is perhaps best known for playing Emily Shadwick in the television soap opera Brookside until 2003 and has recently made appearances in many different television shows, and as Meg Giry in the 2004 film adaptation of The Phantom of the Opera. She is a former girlfriend of Steven Gerrard, the Liverpool and England footballer.[1]
Modelling and magazine appearances
Edit
Ellison is currently featured in Maxim magazine's Girls of Maxim gallery. She has appeared regularly in almost all of the mainstream British "lads' magazines" over the last eight years, though her first appearance was in 1999 in a sexually suggestive shoot for FHM at the age of just 16, under the heading "Jailbait". Recently, Ellison took over a contract with lingerie giant Ultimo for its "Young Attitude" line from fellow model Jordan barely two months after she had been signed on. Though Ultimo boss Michelle More had chosen Jordan for being "sexy, fun and outgoing," she later changed her mind, stating, "Jordan was just the wrong choice for [us]. Jennifer is a far better option and far classier." In 2005 Ellison was voted "world's sexiest blonde" by readers of the UK magazine Nuts, beating model Victoria Silvstedt, who came second, and pop superstar Britney Spears, who was voted third. Ellison is also a regular in the yearly FHM "100 Sexiest Women in the World" feature. She first appeared in 2003 at number 60; then at number 29 in 2004; by 2005 she was at number 17; in 2006 she was number 31; in 2007, she fell to number 87; and in 2008 she did not feature. Her drop down the list over the last two years is largely attributable to her taking a break from modeling from late 2006 to early 2008. However, she has since returned to modeling[2]. Ellison's most distinctive attributes are her large (32DD) breasts, which appear all the bigger due to her small frame. Although she denies they have been augmented in various interviews, there is evidence in recent photoshoots that they have been augmented at some point, with telltale scars visible under each breast. They are often commented upon in the tabloid press,[3] although she has never posed fully topless. In 2008, she won the prestigious Rear of the Year award and Kanye West featured her in his widely read Blog.
Since the age of three, Ellison has trained as a dancer, first at a dance school in Liverpool, then later at the Elizabeth Hill School of Dancing in St. Helens, Merseyside. She has achieved examination passes with the Royal Academy of Dance and the International Dance Teachers Association. In 1996 and 1997, she won titles at the IDTA Theatre Dance Championships, for Ballet and Modern Dance. She successfully auditioned for the Royal Ballet Lower School[4], but after completing her studies at the age of 16, she was not accepted into the Upper School, so decided not to pursue a career in classical ballet.Template:Fact
In 2006, Ellison released Jennifer Ellison's West End Workout, a Fitness DVD which combined her love of Dance with Exercise routines.
In 2007 Ellison was a judge in the British reality TV competition Dirty Dancing:The time of your life.
Ellison had a run in the London West End theatre version of the musical Chicago in 2004 at the Adelphi Theatre, and returned from 10 July to 9 August 2006 again playing the leading role of "Roxie Hart", this time at the Cambridge Theatre. Ellison was actually supposed to finish on 12 August, but was forced to pull out three days early due to a knee injury. Ellison subsequently toured England in Chicago from 25 September 2006 until 5 May 2007, appearing in Birmingham, Manchester, Sunderland (she switched on the Christmas lights there), Nottingham, Southampton, Stoke-on-Trent and Liverpool.
On 1 October 2007, Ellison joined the cast of a revival of Boeing Boeing at the Comedy Theatre, London, playing the part of Gloria, an American TWA air stewardess.
On 5 December 2007, she featured in a 10th Anniversary Gala performance of Chicago at the Cambridge Theatre alongside a galaxy of stars and on 16 December 2007, she played "Angel" in Liverpool Nativity, a contemporary retelling of the Christmas story for BBC Three which was performed live from the streets of the City.
In early 2008 she featured in Raja and Jarett's advertisment for Selfridges; the Vegas themed promotion featured Ellison as a showgirl in a sequined bikini who was sliced into nine pieces in the Slicer illusion.
Ellison featured in the Liverpool Empire Theatre's Christmas Pantomime Cinderella for 2008 opposite Cilla Black and Les Dennis.
She also played the character Beth in Jeff Wayne's Musical Version of The War of the Worlds at the major Arenas of the UK in June 2009
In the June 2009 issue of Nuts Magazine, Ellison was said to be in discussions about taking part in the Summer 2010 run of Mystique, a stage magic show, at Blackpool Pleasure Beach.
Ellison made her international movie debut as Meg Giry in the 2004 film version of The Phantom of the Opera. In spite of this being her debut in a Hollywood movie, Ellison has yet to make another American film.
She also starred in the British horror movie The Cottage, which was released in the UK on 14 March, 2008.[5]
Ellison has also flirted with a pop rock career.[6]. Her first single was "Baby I Don't Care", released in June 2003, which reached number six in the charts. The song was originally released by Transvision Vamp in 1989. The following year in July, after being brought back into the public eye after winning Hell's Kitchen, Ellison released her second single, "Bye Bye Boy", which reached number 13 in the UK charts.
Television
Edit
In 2003, Ellison appeared in the travel documentary Jennifer Ellison does Thailand and in 2004 she appeared on the reality television show Hell's Kitchen, which she then went on to win. In 2005, she appeared on the celebrity challenge show With a Little Help From My Friends for ITV.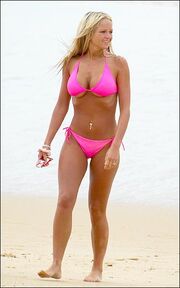 Ellison has made numerous appearances on children's television, both on BBC and ITV, and had a long standing association with the CITV series
Tricky TV
. Magician Stephen Mulhearn attracted controversy for Ellison's appearances, which generally involved brief costumes and were critcised as being "too sexy". The Blackpool Beach special was particularly controversial
[7]
, featuring Ellison along with
Holly Willoughby
. A routine called
Bikini Blocks
, a double
Mismade Girl
illusion in which Jennifer and Holly - both dressed only in brief bikinis - were sliced into four and had their chests swapped.
Ellison subsequently returned to Tricky TV for a Halloween special which saw her locked in an Iron Maiden, stretched on a rack, and beheaded with a guillotine.[8]
In spring 2007 Ellison appeared in the BBC reality TV show The Verdict, based on a fictional courtroom, alongside the likes of Jeffrey Archer and Sara Payne.
In 2007, she appeared as a judge on Dirty Dancing - Time of your Life a United States based reality television show for the Living TV network.
In December 2007 Ellison began appearing as a guest panellist on the ITV daytime show Loose Women.
Ellison has been a regular on The Paul O'Grady Show. In September 2008 she appeared in a 2 hour long show, called Ghosthunting with Paul O'Grady & Friends, filmed in Sicily, with fellow Liverpudlians Paul O'Grady, Philip Olivier and Natasha Hamilton. The episode is claimed to be the best episode so far in the series.
Ellison has also acted in episodes of the British television series The Brief, Hotel Babylon, New Street Law and The Commander.
Discography
Edit
References
Edit
External links
Edit
Community content is available under
CC-BY-SA
unless otherwise noted.