Kimberly Kaye Wyatt (born February 4, 1982) is an American singer, dancer, choreographer and television personality. She is best known as a former member of the American pop/R&B girl group and dance ensemble the Pussycat Dolls. She joined the Pussycat Dolls in 2003, and left the group in 2010.[1]
Wyatt now lives in England and won the BBC's Celebrity MasterChef series in 2015. In 2016 Kimberly became the ambassador for the Bloch Dance World Cup.
Life and career
Edit
Childhood and early years
Edit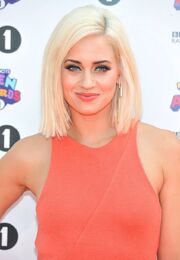 Wyatt was born in Warrensburg, Missouri, a town near Kansas City.[2] She began dancing at the age of seven.[2] At the age of 14 she earned a scholarship to study in New York's Joffrey Ballet and the Broadway Dance Center.[3] At the age of seventeen, she graduated from high school and flew to Las Vegas to audition for cruise ship and casino shows. She worked in a revue on Royal Caribbean's Explorer of the Seas for two years.
2001–2010: Career beginnings and the Pussycat Dolls
Edit
In 2001, Wyatt moved to Los Angeles despite getting an offer from Hubbard St. Dance Co.[2] In 2002, Wyatt became one of the dancers on the comedy sketch show, Cedric the Entertainer Presents as a Cedsation.[4] In 2003, she was a dancer in Nick Lachey's music video for the single "Shut Up." Robin Antin was the choreographer, and it was here that she asked Wyatt to join the Pussycat Dolls.[2] Wyatt does the standing oversplit in most of Pussycat Dolls music video, which she called her trademark move.[5]
Wyatt's first vocal role in the Pussycat Dolls came when she recorded a solo song called "Don't Wanna Fall in Love" for the Deluxe Edition of their second album, Doll Domination. After Jessica Sutta, Wyatt was the second member to announce her departure from the group. She confirmed her departure in Loaded Magazine. She said the Dolls gave her more than she could ever have before, and gave her a great platform to help her in the industry. Since leaving, Kimberly has gone on to pursue a range of projects, including as a judge on the British reality show Got To Dance.[6]
2010–present: Got to Dance, Her Majesty & the Wolves and solo music careerEdit
Wyatt became one of three judges of Sky1's dance show, Got to Dance, alongside Ashley Banjo and Adam Garcia, in 2010. In September 2010, it was announced that Got to Dance would return for a second season. That year, she was also featured on Aggro Santos' track "Candy". "Candy" was the lead track for the film StreetDance 3D. The song charted at #5 on the UK Singles Chart. In October 2010, it was announced that Wyatt along with Paula Abdul and Travis Payne would be judges on Live to Dance, the US version of Got to Dance.[7] The show aired for one season on CBS and was not renewed.[8] Taio Cruz performed "Higher" on ITV's Daybreak on and BBC One's Let's Dance for Comic Relief with Wyatt filling in for Kylie Minogue.
In 2009, Wyatt told Digital Spy that she was recording her first solo album and confirmed that she has already worked with rappers Paul Wall and Baby Bash and producers from "The Cold Chamber" like Mickaël on the record. She said the album would be released within a year.[9] Wyatt performed her brand new single "Derriere" for the first time on an episode of Got to Dance on February 24, 2013. As of July 2015, no album has been released.
In 2010, Wyatt teamed up with former Jupiter Rising member Spencer Nezey, forming the group Her Majesty & the Wolves. Their album 111 was released in the UK on July 11, 2011.[10]
On 7 March 2013, Wyatt appeared on BBC Radio 1's Innuendo Bingo.[11]
In March 2015, it was announced that Wyatt would take part in ITV's Give a Pet a Home show which works alongside the RSPCA in Birmingham.[12] In July 2015, she won the final of Celebrity MasterChef on BBC One, beating Sam Nixon, Rylan Clark and Scott Maslen.[13]
In November 2015, Wyatt became a School Sport Ambassador in the UK for the Youth Sport Trust , promoting health and well-being for young women through dance. [14]
Personal life
Edit
Wyatt got engaged to the English model Max Rogers in September 2013 after dating for two and a half years, and married on February 22, 2014. On August 18, 2014, she announced she was pregnant with her first baby.[1] On December 2, 2014, Wyatt gave birth to a girl named Willow. She is based with her family in England.[15]
Discography
Edit
Featured singles
Edit
Promotional singles
Edit
| Year | Single | Album | Notes |
| --- | --- | --- | --- |
| 2010 | "Not Just a Doll" | Digital download | Available through Amazon.com and iTunes.[21][22] |
| 2013 | "Derriere" | | |
Album appearances
Edit
Music videos
Edit
List of music videos
Title
Year
Director(s)
"Candy"

(with Aggro Santos)

2010
Emil Nava[24]
"Glaciers"
Jess Holzworth[24]
"Stars in Your Eyes"
Justin Harder[24]
"Goodbye/Goodnight"
2011
TBA[24]
Filmography
Edit
Year
Title
Role
2002
Cedric the Entertainer Presents
Dancer
2004
Starsky & Hutch
Nightclub Dancer
13 Going on 30
Dancer
2005
Be Cool
Pussycat Doll
2008
Celebracadabra
Herself
2009
Just Dance
Dancer
Poor Paul
Actress
2009–2014
Got to Dance
Judge
2010
Shooting Stars
Guest (as 'Kimberley White')
Never Mind the Buzzcocks
Guest
2011
Live to Dance
Judge
Daybreak
As guest performing "Higher" with Taio Cruz
Celebrity Juice
Guest
Chris Moyles' Quiz Night
Guest
2011, 2012
Ask Rhod Gilbert
Guest
2011
8 Out Of 10 Cats[25]
Herself
2012
Mad Mad World
Herself, panellist
Britain Unzipped
Guest
The Xtra Factor
Guest
2013
Fake Reaction
Guest
Got to Dance - Tylko Taniec (Poland)
Guest judge
2014
The Jump
Herself, contestant
Duck Quacks Don't Echo
Herself, contestant
Sweat the Small Stuff
Herself, panelist
2015
Give a Pet a Home
Herself, celebrity contributor
Murder in Successville
Herself, cameo appearance (1 episode)
Celebrity MasterChef
Herself, winner
Through The Keyhole
Guest
Storage Hunters: Celebrity Special
Herself, participant
2016
Bruce's Hall of Fame with Alexander Armstrong
Herself, participant
Now You See It
Herself, Participant
Saturday Show
Guest
Lorraine
Kimberly's Kitchen Garden sector
References
Edit
↑ 1.0 1.1 Lucy Buckland (August 18, 2014). "Kimberley Wyatt pregnant! Pussycat Doll discovered she was expecting on her honeymoon". mirror. http://www.mirror.co.uk/3am/celebrity-news/kimberley-wyatt-pregnant-pussycat-doll-4068379.

 

↑ 2.0 2.1 2.2 2.3 ""Inside every woman is a Pussycat Doll," says Robin Antin". William Morris Endeavor (Interscope Records). Archived from the original on December 7, 2008. https://web.archive.org/20081207064229/http://www.wma.com/pussycat_dolls/Bio/pussycat_dolls.pdf

. Retrieved June 22, 2010

.

 

↑ Lo, Ricky (November 2, 2008). "In the Valley of the Dolls". The Philippine Star (PhilStar Daily, Inc.). http://beta.philstar.com/Article.aspx?articleId=411978

. Retrieved June 22, 2010

.

 

↑ Raftery, Brian (June 19, 2006). "Pussycat Dolls: Pussy Galore!". Blender. Archived from the original on May 3, 2010. https://web.archive.org/20100503113342/http://www.blender.com:80/guide/68290/pussycat-dolls-pussy-galore.html

. Retrieved May 5, 2010

.

 

↑ "Loose Women - Kimberly Wyatt". ITV. http://www.itv.com/lifestyle/loosewomen/videos/k/celebrityguests/kimberlywyatt/

. Retrieved September 6, 2010

.

 

↑ Pollen, Lisa (October 25, 2014). "Kimberly Wyatt on nesting, pregnancy yoga and fish and chips". Express. http://www.express.co.uk/life-style/life/526483/Kimberly-Wyatt-on-having-a-baby

. Retrieved July 6, 2015

.

 

↑ "Paula Abdul's 'Live to Dance' Show Gets Host and Judges". http://www.billboard.com/articles/news/953886/paula-abduls-live-to-dance-show-gets-host-and-judges

. Retrieved July 6, 2015

.

 

↑ "Exclusive: Paula Abdul "devastated" after being told show is cancelled". http://radaronline.com/exclusives/2011/02/exclusive-paula-abdul-devastated-after-being-told-show-cancelled/

. Retrieved July 6, 2015

.

 

↑ Balls, David (December 9, 2009). "Exclusive: Pussycat Doll Kimberly readies solo album". Digital Spy. http://www.digitalspy.com/music/news/a190505/pussycat-doll-kimberly-readies-solo-album.html#~phGaDCNw73wdyh

. Retrieved July 6, 2015

.

 

↑ "Her Majesty & The Wolves: 111". http://www.discogs.com/Her-Majesty-The-Wolves-111/release/2962253

. Retrieved July 6, 2015

.

 

↑ Celebrity MasterChef 2015 finalists: will Rylan, Kimberly Wyatt or Sam Nixon win? - TV - Staying In - London Evening Standard
↑ http://www.youthsporttrust.org/news-media/news/2015/november/kimberly-wyatt-joins-youth-sport-trust-as-ambassador.aspx
↑ "Kimberly Wyatt: I want Willow to be English". Irish Examiner. 12 April 2015. http://www.irishexaminer.com/examviral/celeb-life/kimberly-wyatt-i-want-willow-to-be-english-323496.html

. Retrieved 23 January 2016

.

 

↑ "Aggro Santos Ft Kimberly Wyatt - Chart History - The Official Charts Company". The Official Charts Company. Archived from the original on January 18, 2013. http://archive.is/LGU2e

. Retrieved September 2, 2010

.

 

↑ "Kimberly Wyatt Irish discography". Irish Recorded Music Association. Irishcharts at Hung Medien. http://irish-charts.com/showinterpret.asp?interpret=Kimberly+Wyatt

. Retrieved September 2, 2010

.

 

↑ "European Hot 100 Week of May 22, 2010". Billboard (Nielsen Business Media, Inc.). http://www.billboard.com/#/charts/european-hot-100?begin=21&order=position

. Retrieved May 16, 2010

.

 

↑ "Listy bestsellerów, wyróżnienia :: Związek Producentów Audio-Video". Zpav.pl. May 30, 2014. Archived from the original on June 3, 2013. https://web.archive.org/20130603115221/http://www.zpav.pl/rankingi/listy/nielsen/nowosci.php?lang=2&idlisty=87

. Retrieved June 5, 2014

.

 

↑ "BPI > Certified Awards Search". British Phonographic Industry. Archived from the original on May 11, 2011. https://web.archive.org/20110511120001/http://www.bpi.co.uk/certifiedawards/search.aspx

. Retrieved July 11, 2010

.

 

↑ "Not Just A Doll by Kimberly Wyatt". Amazon.com. 2010. http://www.amazon.com/dp/B003B8XTC4

. Retrieved March 9, 2010

.

 

↑ "Not Just a Doll – Single by Kimberly Wyatt". iTunes. Archived from the original on November 6, 2012. https://web.archive.org/20121106154032/https://itunes.apple.com/us/album/not-just-a-doll-single/id360398408

. Retrieved March 10, 2010

.

 

↑ "Doll Domination (Deluxe Edition) by the Pussycat Dolls". iTunes. http://itunes.apple.com/us/album/doll-domination-deluxe-edition/id291375026

. Retrieved August 27, 2010

.

 

↑ 24.0 24.1 24.2 24.3 "MC Aggro's Candy (feat. Kimberly Wyatt) by Emil Nava". Promonews.tv. http://www.promonews.tv/2010/04/13/mc-aggro%E2%80%99s-candy-feat-kimberly-wyatt-by-emil-nava/

. Retrieved October 18, 2010

.

 

↑ Gorman, Bill. "Kimberly Wyatt - IMDb". http://www.imdb.com/name/nm1255155/.

 
External links
Edit
External links
Edit