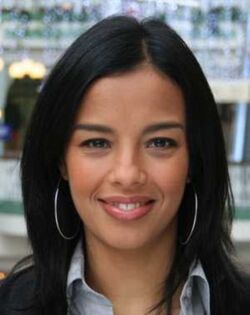 Liz Bonnin (born 16 September 1976 in France) is an Irish television presenter currently working in the United Kingdom. She was born in France to a French father and Trinidadian mother and moved to Ireland when she was 10 years old. She first started her career presenting on RTÉ Television in the Republic of Ireland while later moving to the UK to present on a number of TV channels. She was also part of an Irish girl pop group named Chill.
In 2002 she became the entertainment reporter for the Channel 4 morning show, RI:SE. While working on the show, she presented a week of reports from Las Vegas about the various shows there. During her report on the Showgirls of Magic show, she found herself being sawed in half by the girls. The report finished with her still in two pieces, promising to "be back soon - If I can pull myself together!" In the same year she became a regular presenter on Top of the Pops. She presents Ghost Towns Live and Break with the Boss on Living TV and Gadgets, Gadgets, Gadgets on Player.
In
2004
Bonnin was locked in a giant kennel along with MPs
Paul Burstow
,
Evan Harris
and
Ivan Henderson
and actress
Liza Goddard
,
BBC
Newsround
presenter and DJ
Becky Jago
in a stunt to launch the annual RSPCA Week to raise awareness and funds.
She has a degree in Biochemistry from Trinity College, Dublin.
One of her "trademarks" is that she usually wears a pair of very large hoop earrings.
Community content is available under
CC-BY-SA
unless otherwise noted.