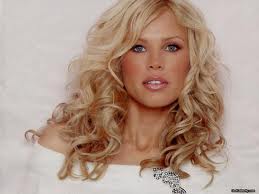 Melinda Jayne Messenger
(born 23 February 1971 in
Swindon
,
Wiltshire
) is an
English
television presenter
and was one of the country's most successful
glamour models
.
Biography
Born in Swindon, Wiltshire, the middle child between two brothers, Jamie and Warren. Her parents Terry and Avis divorced when she was aged 5. After attending local schools, she spent six months working as a flight attendant for Britannia Airways, and a similar period as a magician's assistant. Messenger then joined a local marketing company, rising to become customer services manager overseeing a staff of 50.
Modelling career
Deciding she wanted to become a model,[1] her agent at the Jason Paul Modelling Agency suggested she enhance her breasts - which she enlarged to a 34DD cup. She then took a job modelling for Gloucester-based double glazing company Glevum Windows - dressed only in knickers and bra. After being put up as part of an advertising campaign with the slogan "Class Behind Glass," the posters quickly began disappearing from bus stops, taken by local lads. After a complaint at the level of lack of dress of Messenger, the Advertising Standards Authority banned the campaign, claiming they were not as "classy" as they claimed to be.
After local newspapers picked up on the story, Daily Star ran the story on 28 January 1997 as a photo-shoot of Messenger, under the headline, "Move Over Eva Herzigova." Soon after Messenger shot to fame, her mother Avis, publicly denounced her for her glamour career choice, and the two became estranged. It wasn't until the birth of Melinda's first son that the two were reconciled. Later in 1997 she won The Rear of the Year.
Signed by modeling agent Yvonne Paul - who had earlier steered Samantha Fox to fame in the 1980s - Messenger's career took off. Posing for artistes including Vivienne Westwood, she was poached for exclusive appearance in the The Sun newspaper's Page Three, they later hailed her as the "Girl of the Thrillenium!" Her work for the newspaper entailed visiting the Spanish costas, as well as visits to English seaside resorts - an assignment known as "Mel's Big Bus Tour." She continued working for The Sun until readers voted to ban models with breast implants.
Messenger appeared on many television programmes during this period, including Chris Evans's TGI Friday, the Jack Dee Show, Paul Daniels's Secrets (in which she was subjected to the Buzz Saw illusion), and a number of Page 3 videos and events.
Melinda is the face and body of the D-G Cup range for designer lingerie brand Ultimo.
Move from modelling
The resultant publicity brought her to the notice of various producers, which Messenger took advantage of to increase her public awareness while reducing her glamour workload - although much of her early non-modelling work played greatly on her existing topless modelling fame.
She appeared in a cameo role in 1999's Virtual Sexuality as Superbra Girl, and co-starred in the 2000 cult movie "The Mumbo Jumbo" in the role of Princess Vanilla.
Eurotrash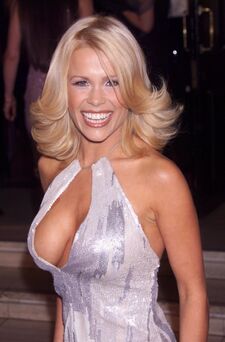 Messenger worked as a roving reporter for Channel4 cult show Eurotrash, a role which saw her experiencing a variety of scenarios.
One assignment was to a fetishwear factory in Bavaria, whose products Melinda enthusiastically modelled for an impromptu fashion show.
A chocolate shop in Belgium offered Melinda a job as a display model: nude, she was coated in chocolate, and displayed in their window for a hour, drawing a large crowd.
Subsequently, Messenger visited UK "glamour" magicienne Lynx during her European tour. After a backstage interview, Melinda took a front row seat in the audience. Lynx appeared from an empty box, and invited Melinda onto the stage. The Head Zopper illusion was then introduced. Lynx had Melinda kneel down, locked her neck into a stock, and tried to cut off her head with a jig saw. When Melinda survived this, she was invited to take a seat onstage, only to find herself restrained and subjected to the Burning Head illusion. Restored, Melinda seemed to be in a hypnotic trance, perfect for the Sawing in Thirds illusion, in which she underwent a costume change. When awoken, Lynx invited Melinda to turn the tables - the nude conjurer lay on a metal bench, and Melinda slid her into her own Cremation illusion!
On a return visit, Melinda found herself in the Zig Zag Girl illusion, emerging topless! She then cut the nude conjurer in half with a buzz saw.
Messenger's time with Eurotrash ended when she took the decision to stop her topless work.
Pantomime
Messenger subsequently became a popular pantomime actress, such as Cinderella (2004–2005) and Aladdin (with Bobby Davro and John Rhys Davies, Woking, 2005–2006).
Mother and presenter
Following the birth of her first child Morgan on 7 April 2000 - during which she suffered from pre-eclampsia, which resulted in a birth by caesarian section[2] - Messenger finished undertaking topless work and concentrated on developing her career as a television presenter and celebrity personality.
Undertaking a great deal of DVD work which she could manage around being a mother, Messenger released "Back Into Shape Workout" after the birth of her first child. It was a six week fitness programme designed to get mothers back into shape after the birth of their baby. She appeared on video release "Noel Edmonds - Gotcha!", in which she was one of the unwitting victims to receive the treatment from Noel and his gang.
In late 2008 Melinda held talks with Channel 4 to become the new presenter of Countdown, but she turned down their offer of a four-year contract.
Messenger had her own issue of 'At Home With…" magazine called 'At Home With Melinda Messenger", which was aimed at parents. Melinda joined with chef Antony Worrall Thompson in May 2008 for the recipe book "The Sweet Life", in which she contributed some recipes.
Television
Messenger's TV career began in 1997 on Channel 4's Eurotrash. That same year she was given her own show on Channel 5 called Melinda's Big Night In.
From 1998, Messenger became assistant in Fort Boyard on Five which ran for five series. She initially joined ex-Eastender Leslie Grantham and later Catweazle star Geoffrey Bayldon in the game show which tested contestants physical agility and brainpower on the similarly named sea fortress in France.
In 2002, she appeared on Celebrity Big Brother where she was described as a "blonde Vulcan" by fellow contestant Sue Perkins, who questioned her apparent lack of range of emotions. She has since presented many TV programmes, including "Loose Lips" (with Richard Arnold), "Baby Baby", "Can We Still Be Friends", "Beat The Dealer" and "Beat The Crusher."
In 2008, Messenger has presented a host of programmes including for the BBC To Buy or Not to Buy, ITV1's Bingo Night Live.[3], and 'A Garden For Eden' for ITVWestcountry.
Melinda's new show 'Cowboy Builders' started on Channel 5 on January 8th 2009. Alongside this, Melinda is a contestant in the fourth series of Dancing On Ice, which began on January 11th, 2009. This was confirmed on 5th January 2009, on This Morning. She was voted out in Week 7 after losing a surprise skate-off against Jessica Taylor. She had survived three previous skate-offs.
In 2009, Messenger, along with ex-footballer Ian Wright and The Apprentice runner-up Kate Walsh began presenting a new show on Five called Live from Studio Five. The show was first was broadcast on 14 September 2009 and ran continuously until cancelled in February 2011. In November 2009, she appeared on the BBC charity telethon Children in Need, where she acted as the assistant to illusion act The Twins in their Clearly Impossible sawing in half illusion.
It was announced on 29 January 2010 that Messenger was leaving her role on Live from Studio Five, to focus on other projects.[4] Her last show was on 26 February 2010. A series of guest hosts then replaced her. Messenger later revealed that she had quit the show due to differences with Wright.[5]
It was confirmed on 5th October 2011 that she would host the new Health Lottery Draws on ITV 1 and Channel 5.[6] Health Lottery is run by Northern & Shell a British publishing and television group. The company is owned by Richard Desmond and along with several newspapers and magazines it also operates channel 5 and several porn TV channels. As part of the promotion for the Health Lottery, which involves selecting five numbers, Messenger took part in a magic show photoshoot in which she was divided into five pieces in a modified mismade cabinet.
References
Community content is available under
CC-BY-SA
unless otherwise noted.