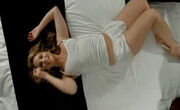 Rachel Lauren Stevens(born 9 April 1978) is an English singer, songwriter, actress, dancer, television personality and model. She is a former member, and one of the lead singers, of the successful pop group S Club 7 between 1999 and 2003, and launched a solo recording career in 2003, releasing seven singles and two albums in the UK between 2003 and 2005. In 2008, she came second in the sixth series of the BBC One seriesStrictly Come Dancingwith her dance partner Vincent Simone. On 16 November 2010, she gave birth to her first child, Amelie. In 2013, she was a mentor assistant onThe X Factor New Zealand. In September 2013, Stevens announced she was pregnant with her second child and gave birth to Minnie on 1 April. Also in 2014, she was awarded FHMs sexiest woman of all time. Stevens became one of the coaches in the 4th season of RTE's The Voice of Ireland. Stevens' version of the song "More, More, More" has been used in adverts for sofa retailer ScS. In November 2014, S Club 7 announced plans for an arena reunion tour, titled Bring It All Back 2015, touring the UK in May 2015.
Early life
[
]
Born in London, United Kingdom to a middle-class Jewish family, she attended Ashmole School in London.[1] Stevens has two brothers, Jason and Leigh. From a very early age, Stevens was drawn to entertaining people; she started ballet and acting lessons at the age of five. In 1993 she first caught attention while beating out 5000 competitors and winning a modeling contest sponsored by UK teen magazine Just 17.
Following her first modeling jobs, she decided to study at the London College of Fashion, where she achieved a diploma in business. During that time she also worked in a film company and later ended up working in public relations, but began to lose interest and decided to pursue a career in singing instead.[2]
Music career
[
]
1999–2003: S Club 7
[
]
Main article: S Club 7
At the age of twenty, Stevens became a member of the British pop group S Club 7, which were a BRIT Award-winning British pop group created by former Spice Girls manager Simon Fuller. The group rose to fame via their own BBC television programme and by selling 16 million records worldwide[3] and launching four number one hit singles in the United Kingdom. S Club eventually split up in 2003.[4]
In both 2001 and 2002 she was voted the second Sexiest Woman in the World by UK's FHM readers.[5]
Solo
[
]
After S Club were disbanded, Stevens signed a £1.5 million ($2.3 million) solo four-album deal with Polydor Records and re-signed with Fuller.[6] Stevens said that breaking out on her own after success with S Club was difficult: "I think we [S Club] ended up conforming to what people's perceptions were. This one was the ditzy one, this one was the singer, this one was the dancer. And to come out of that and be a whole person has been a real challenge for me. I didn't have my say, really, in the group. None of us did."[3]
2003–2004: Funky Dory

[

]
Her first solo single, written by Cathy Dennis and produced by Bloodshy & Avant, "Sweet Dreams My LA Ex", was released in September 2003.[7] Taking inspiration from R&B and adult-style pop music, Stevens's debut solo album, Funky Dory, was released later that month. The album was a minor hit, reaching number nine on the UK albums chart.[8] Although it was not a huge commercial success, it gained praise from pop critics; Jamie Gill, in a review for Yahoo! Launch, said that Stevens "eschews the cheap and cheerful approach of her old band for a slinky adult confidence and musical eclecticism."[9]
That December, the album's title track, "Funky Dory" (featuring a sample of the David Bowie song "Andy Warhol" from his album Hunky Dory), was released as its second single and failed to match the success of "Sweet Dreams My LA Ex", peaking at number twenty-four. MusicOMH called it "musically better than "Sweet Dreams My LA Ex" with a hybrid of pop, Latin and even a hint of jazz infusion" but not a good single choice as a single as it lacked anything special and different.
In July 2004, Stevens released the BBC Sport Relief charity single, "Some Girls", which was produced by Richard X. It became a hit across Europe, and reached number two in the UK. HMV.co.uk called the song Stevens's "finest song to date", and Yahoo! Launch commented that "she came to save her career. She ended up saving pop.
Following the success of "Some Girls", Funky Dory was re-released to include "Some Girls" and another new track, a cover of Andrea True Connection's "More More More". "More More More" was issued as a single and peaked at number three in the UK, giving Stevens her third top ten solo single in the UK.[10] At this point, Stevens and her management stepped up promotion, earning her a Guinness World Record for "Most Public Appearances by a Pop Star in 24 Hours in Different Cities" (seven on 8 September-9 September 2004).[11]
2004–2005: Come and Get It

[

]
In late 2004, Stevens began working on her second solo album, Come and Get It, with producers and songwriters Richard X, Alexis Strum, and Xenomania.[12] The following March, its first single, "Negotiate with Love", was a top ten hit in the UK.[13] "So Good" was released in July 2005 and also peaked at number ten,[14] being hailed as "tastily produced and sassily delivered."[15] In mid 2005, Channel 4 broadcast a documentary which followed Stevens through the summer as she promoted "So Good".
Stevens released Come and Get It in October 2005. The album was less successful than her debut, peaking at number twenty-eight in the UK.[14] Its third and final single was "I Said Never Again (but Here We Are)", which peaked at number twelve in the UK[14] and was commended by HMV.co.uk for its "astonishingly flawless vocal performance" and as Stevens's "most commercially accessible and quirky single since "Some Girls"." It has the song "Je m'appelle Rachel" on it, which was originally written by Shelly Poole as "Je m'appelle Michelle".
In 2007, The Guardian included the album in their "1000 Albums You Must Hear Before You Die" list.[16]
2009–present: New Material
[
]
In December 2009, Stevens confirmed plans to release new material. She stated, "It's very early stages at the moment, but I'm going into the studio in the New Year ... all very exciting! I'll keep you all posted with what's going on."[17]
Acting career
[
]
While Stevens was a member of S Club 7, she appeared in five series of S Club shows: S Club 7 Go Wild!, Miami 7, L.A. 7, Hollywood 7, and Viva S Club. The group also starred in the feature film, Seeing Double. In 2004, Stevens briefly appeared in Suzie Gold, followed by a minor cameo role in Deuce Bigalow: European Gigolo (2005).
In 2005, Stevens played a character called "Jane-Mary" in a Spider Man charity spoof called Spider-Plant Man for the BBC appearing opposite Rowan Atkinson as part of Comic Reliet 2005. In December 2007 it was announced that Stevens would be transformed into a nine-inch high plasticine character for Glendogie Bogey, a new animated comedy for BBC Scotland.[18] Later in 2005, Stevens also played a minor role in Dominic Veall's ITV television drama Flawless playing Lucy Carlts, the sister of Rodger Carlts.
In January 2009, Stevens was reportedly "in talks" to appear in the second series of BBC One's Merlin.[19]
Strictly Come Dancing

[

]
In August 2008, it was announced that Stevens would take part in the 2008 series of Strictly Come Dancing, which started on 20 September. She was partnered with professional dancer Vincent Simone, and together they hold the record for the most perfect 10s ever achieved in any series of Strictly Come Dancing, thus beating out other contestants including 2007 winner Alesha Dixon and 2008 winner Tom Chambers. They also hold the record for the Foxtrot, Tango, Argentine Tango and Rumba and even though Stevens is perhaps the most successful contestant in Strictly history, she finished in second place. [20][21]
Performances
Week #
Dance/Song
Judges' score
Result
Craig Revel Horwood
Arlene Phillips
Len Goodman
Bruno Tonioli
1

Cha Cha

/"

Lady Marmalade

"
Group Performance - Not Judged
2

Salsa

/"No Puedes Comprar Mi Amor"
7
8
8
8
Safe - 31
3

Swing

/"Choo Choo Cha Boogie"
Group Performance - Not Judged
4

Quickstep

/"

Little Green Bag

"
8
8
9
8
Safe - 33
5

Samba

/"

Hips Don't Lie

"
7
7
8
8
Safe - 30
6

Viennese Waltz

/"

Everybody Hurts

"
8
8
8
8
Safe - 32
7

Jive

/"

Sweet Soul Music

"
7
8
8
9
Safe - 32
8

American Smooth

/"

I Got A Woman

"
8
9
9
9
Bottom two - 35
9

Rumba

/"

You Do Something to Me

"
9
10
10
10
(First place) Safe - 39
10

Foxtrot

/"

Close to You

"
10
10
10
10
(First place) Safe - 40
11

Waltz

/ "

Angel

"
9
10
10
10
Bottom two - 71

Paso Doble

/ "

The Final Countdown

"
7
8
8
9
12

Tango

/ "

Here Comes The Rain Again

"
9
10
10
10
(First place) Safe - 76

Cha-Cha-Cha

/ "

Signed, Sealed, Delivered I'm Yours

"
9
9
9
10
13

Argentine Tango

/ "

When Doves Cry

"
9
10
10
10
(Joint first place) Safe - 75

American Smooth

/ "

Mandy

"
9
9
8
10
14

Foxtrot

/ "

Close to You

10
10
10
10
2nd place overall - 79

Rumba

/ "

You Do Something to Me

"
9
10
10
10

Showdance

/ "

Flashdance...What a Feeling

"
-
-
-
-
Stevens and Vincent Simone also took part in the 2008 Strictly Come Dancing Christmas Special on Christmas Day which saw a four way tie at the top of the leader board by four couples getting 39 points each. Head judge Len made the final decision and decided to put them in order which left Stevens in third place in the leader board. Stevens returned in Series 7 2009 grand final with a group tango which saw her dance with Vincent and alongside series 6 finalist Lisa Snowdon and Brendan Cole.
Stevens and Simone also competed in the 2009 Christmas Special alongside Austin Healey, Chris Hollins, Gethin Jones, Ali Bastian and Ricky Whittle. Stevens and Simone did not win the Christmas Special, however, they did match their score for the rumba (39/40), still the highest score for the dance to date and thus ending the special as runners up.[22]
Personal life
[
]
In her earlier years in S Club, Stevens dated property developer Daniel Cohen for about two years. Following the split, Cohen stated he met Stevens socially a few times after their break-up, adding "she's an absolute darling, someone I haven't a bad word to say about".[23]
On Valentine's Day in 2002, Stevens became engaged to actor Jeremy Edwards.[24] The couple broke up in early 2004.[25]
After the breakup, she dated Gavin Dein, son of former Arsenal vice-chairman David Dein.[26] The relationship did not last long, with the couple splitting up in August 2005.[27]
In September and October 2006 respectively, Stevens was linked to actor Stephen Dorff[28] and American-based British singer Oliver Trevena, known professionally as Oli T.[29]
In June 2008, Stevens became engaged to boyfriend Alex Bourne in Italy (who had changed his surname from Leigh) after 18 months of dating.[30]. The couple were planning to get married in the autumn of 2008 but decided to postpone their wedding until August 2009 due to Stevens's busy autumn schedule training and performing on Strictly Come Dancing.[31] Stevens married Bourne on 2 August 2009.[32]
Awareness campaigns
[
]
In 2005, Stevens fronted the Everyman Testicular Cancer Awareness campaign. Stevens's role was notable as she was the first woman to represent this campaign. Her television commercial raised eyebrows with its suggestive content that included her telling men to "put one hand down their trousers and give their testicles a good feel". On the commercial, Stevens commented, "Sometimes men need a little encouragement to think about their health. This is a funny way of raising awareness about a serious subject."Template:Ref
In 2005, Stevens also took part in the Make Poverty History campaign, which aims to eliminate poverty in developing countries by cancelling old debts, improving the way aid is given and removing barriers, so these countries can trade more effectively with the rest of the world. Stevens donated an undisclosed amount of money to the campaign, and also starred in television and magazine advertisements supporting the cause. Her official Web site also displayed the campaign's official online banner.Template:Ref
Endorsement deals
[
]
While in S Club 7, Stevens fronted the World Wide Fund for Nature. More recently, she has been the front woman for Pretty Polly,[33] Sky Sports, Marks & Spencer,[34] and Focus Dailies.[35] In 2009, Stevens became the new ambassador for Schwarzkopf Gliss hair products.[36]
Discography
[
]
Main article:
Rachel Stevens discography
2003:

Funky Dory

2005:

Come and Get It
Filmography
[
]
Film
Year
Film
Role
Notes
2003
S Club Seeing Double
Rachel
2004

Suzie Gold

Pop Star
2005

Deuce Bigalow: European Gigolo

Louisa, the Dirty Girl
Television
Year
Title
Role
Notes
1999-2000

Miami 7

Rachel
15 episodes
2000
S Club 7: Artistic Differences
Rachel
Television movie

L.A. 7

Rachel
13 episodes
2001-2002

Hollywood 7

Rachel
13 episodes
2002

Viva S Club

Rachel
13 episodes
2005

Spider-Plant Man

Jane-Mary

Comic Relief

special
2008
Glendogie Bogey
Patricia Ravelston
Voice
2008-2009
Strictly Come Dancing
Dancer
Competition
Awards
[
]
Year
Award
Result
Category
2003

Smash Hits Poll Winners Party

Won
Best Dressed Star
2004
Best Dressed Star
Most Fanciable Female
2005
Most Fanciable Female
2003
National Music Awards
Favourite UK Female Singer
2004
Celebrity Awards
Sexiest Female Celebrity
2004
NME Awards
Best Female Artist
2004
Disney Channel Kid's Choice Awards
Best Female Artist
2004
52nd Annual Showbusiness Awards
Recording Artist of the Year
2005
Glamour Awards
Woman of the Year
2006
Jammy Awards
Outstanding Female Singer
2009
Digital Spy Reality Awards
Sexiest Female
2009
Rear Of The Year 2009
Winner
Notes
[
]
References
[
]
External links
[
]
Template:Commons