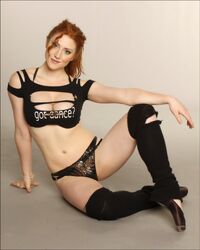 Scarlett, Princess of Magic
, is the stage name of American illusionist and dancer Rachel Jessee (born 1988, Reno, Nevada).
Early life and career
Edit
Rachel was born in Reno, Nevada, in 1988 (although some websites incorrectly give her year of birth as 1985). As a young girl, she was interested in the art of illusion, and saw every magic show in town. Her dreams of performing magic on stage herself came to fruition when, aged 18, she was selected to perform as the featured assistant to Reno magician Jon Andrew (real name John Lewis).
While they were working together as magician and assistant, a romantic relationship began between the 18-year-old Rachel and the 64-year-old Lewis. Lewis also recognised her love of magic and skill in performing, and began to tutor her as a magician. Adopting the stage name of "Scarlett, Princess of Magic", Rachel performed her first show as a magician in October 2007 in Henderson, Nevada. She then went on to headline at The Magic Castle in Hollywood.
Vegas Debut
Edit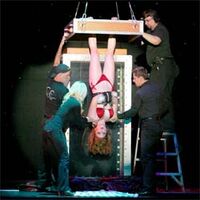 Scarlett debuted in Vegas in July 2008 performing a show entitled "Princess of Magic" at the V Theatre, which ran six days a week. She was praised by David Saxe, brother of Melinda Saxe and former producer of The Showgirls of Magic, who compared her to his sister.[1]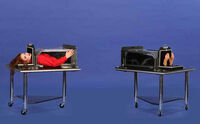 Her show was aimed at a family audience, featuring a light hearted routine of tricks such as the linking rings, rabbit production from a hat, and Topsy Turvy, which Scarlett performed using a cabinet originally owned by Harry Blackstone Jr. She also performed the Windshear illusion, in which she crawled through the spinning blades of a large industrial fan, and a "turnabout" version of Clearly Impossible, in which she was the one being sawed in half by her assistants. The show generally closed with a bikini-clad version of Houdini's Water Torture Cell.
When not performing, Scarlett studied International Business at the University of Nevada, Las Vegas (UNLV).
Adult Show
Edit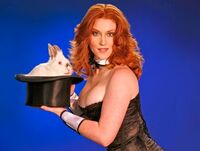 On 1 July 2009 she moved to the Riviera Hotel, to perform a new show,
"Scarlett and the Seductive Ladies of Magic"
. The show teamed Scarlett up with "the Seductive Ladies of Magic", a group of nude showgirls who acted as female assistants.
[2]
Original Version
Edit
Scarlett would produce her assistants from an empty platform, and entertain the audience with an array of close-up magic. An illusion show would follow: highlights included a sword basket act in which the impaled assistant handed out her clothing, emerging in just a thong, a routine in which Scarlett appeared to strip behind a screen, only to vanish when it opened, and a routine called "Cutting Chrissie" in which Scarlett brought her assistant Chrissie onto stage, nude except for high heels, to perform the Thin Model sawing.
Scarlett's fire dancing formed part of the show, including with a routine in which Scarlett danced with a lighted torch, hypnotising one of her assistants, then used the torch to incinerate the mesmerised woman in a Cremation Illusion.
The show was revamped in September 2009, reducing the role of "the Seductive Ladies of Magic", and focusing more on Scarlett.
The show began with Scarlett appearing on an empty platform, and she then produced her assistants from a series of empty boxes. The assistants then brought out the Topsy-Turvey illusion, and ushered Scarlett inside, flipping the magicienne head over heels. Revamped versions of Scarlett's previous routines followed: "Cutting Chrissie" became "Cut by Chrissie", as the nude showgirl used a buzzsaw to divide Scarlett in the Thin Model Sawing, and the sword basket saw Scarlett pushed inside, passing out her leotard to her assistants and emerging in a thong before the interval.
In the second half, Scarlett returned for a performance of the Mismade Girl: Scarlett entered an upright box, and was sliced into four pieces by the Seductive Ladies, who then removed her thong. The beautiful redhead then performed the Windshear, before being locked into the Metamorphosis illusion, only to emerge in an evening dress. After a short dance routine from the Seductive Ladies, Scarlett returned with her bikini clad version of the Water Torture Cell, but on her successful escape the Seductive Ladies mesmerised her with a flaming torch, stripped her, and put her into the Cremation illusion.
Show closure and arrest
Edit
The show closed in December 2009. In the same month, Scarlett was arrested by Las Vegas Police Department after reports she had assaulted Lewis at the home they shared in Henderson, NV.[3]
Fire Dancing
Edit
Jessee is also a noted fire dancer, performing widely in Las Vegas and elsewhere.
Centerfolds of Magic
Edit
In 2013, many of the illusions from Scarlett's shows were reused for the shortlived Centerfolds of Magic, a magic themed nude revue starring Taya Parker.
Campaigning
Edit
Since 2012, Jessee has been a spokesperson for 'Go Topless', a campaign for equal right to be topless in public, and has fronted several 'Go Topless Day' events in New York and Los Angeles.
References
Edit
↑ 'Princess of Magic' arrested in domestic violence case, Las Vegas Review-Journal, December 3, 2009.
External links
Edit
Community content is available under
CC-BY-SA
unless otherwise noted.