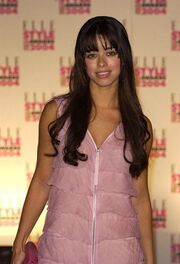 Tina Ann Barrett (born 16 September 1976) is a London based singer-songwriter and actress. Her major breakthrough came in 1999, at the age of 22 when she became a member of the pop group/band, S Club 7 where she enjoyed five years of hit singles, arena tours and awards, including two Brit Awards.
She was at London's Arts Educational School for a period of eight years. Her first job was dancing in a pantomime with Lionel Blair. She was originally going to be in the band Face 2 Face, which later went on to become Mis-Teeq. She assisted with the group's choreography during her time there.
1998-2003: S Club (7)
Edit
Barrett became a member of S Club 7 after a series of auditions along with members Paul Cattermole, Jon Lee, Bradley McIntosh, Jo O'Meara, Hannah Spearritt and Rachel Stevens in 1999.[1]. During five years they released four number one singles and one number one album. They also had a series of TV shows, which were: Miami 7, L.A. 7, Hollywood 7 and Viva S Club, and they also starred in a film, Seeing Double. Barrett led some of the tracks on the groups' albums, such as "I'll Be There" and "Stronger". Stronger was set to be a single, but was cancelled when Paul Cattermole left the group. The six remaining members stayed together until 2003, when they split after releasing their greatest hits album.
In 2008, it was reported that Barrett had joined the newly reformed S Club 5, along with Jon Lee, Bradley McIntosh, Paul Cattermole and Jo O'Meara, but Barrett did not perform with the group and neither did Lee, which made it S Club 3, which has been active from November 2008.
2003-present
Edit
She kept a relatively low profile for about six years after the split. When S Club first announced they were to break up, she expressed interest in working on a solo career.[2] However, there was no information about Barrett beginning a career as a solo artist. [3]
In 2004, Barrett, along with singers Natasha Bedingfield and Atomic Kitten member Liz McClarnon, recorded a single, a cover of Do Ya Think I'm Sexy? by Rod Stewart.
Barrett is currently recording her debut solo album, which is expected to be released in 2010. She has performed her first single 'Fire' live at the Born Free Wild and Live event at the Royal Albert Hall in November 2009.
Discography
Edit
Filmography
Edit
She didn't have her ears pierced until she was 26 (in 2002).
Only child
Half-Guyanese
External links
Edit
References
Edit
↑ S Club 7 - Listen free and Last.fm. Last.fm. Retrieved 4 August 2008
↑ "S Club stars reveal solo plans". BBC News. BBC. 2003-04-23. http://news.bbc.co.uk/1/hi/entertainment/music/2971913.stm

. Retrieved 2008-08-04

.

 

↑ "S Club stalker jailed". BBC News. BBC. 2003-08-19. http://news.bbc.co.uk/1/hi/england/nottinghamshire/3163717.stm

. Retrieved 2008-08-04

.