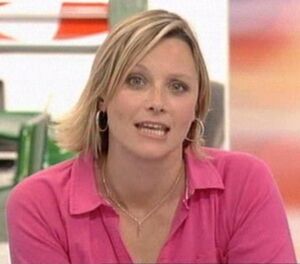 Victoria "Vicki" Butler-Henderson
(aka
Vicki Churchward
, born 16 February 1972, in Hertfordshire, England) is a racing driver and television presenter.
Biography
Edit
Born into a racing family, her grandfather used to race a Frazer Nash at Brooklands, her father was in the British karting team and her brother Charlie is a racing driver. She has an older sister, Charlotte, who does not race. Butler-Henderson grew up on the family farm, and was educated at The Perse School for Girls in Cambridge.
Butler-Henderson started racing karts at the age of 12, being overtaken by David Coulthard in her first race. She holds a Race National C licence as well as a power boat racing licence. After supplementing her income as a racing instructor at Silverstone Circuit, she also undertook a dual career in journalism where she worked on numerous British motoring magazines including Auto Express, What Car? and Performance Car. She was the assistant launch editor and mechanic in Max Power magazine, referred to simply as "VBH."
Media career
Edit
In 1997, she joined the BBC's flagship motoring show Top Gear. After the BBC cancelled the original show in 2001, Butler-Henderson, along with co-presenters Quentin Willson and Tiff Needell, moved to Channel 5 in 2002 to continue their work on a show now called Fifth Gear. In 2004 she also presented ITV's coverage of the British Touring Car Championship, in which her brother Charlie briefly competed in 2004; and from February 2006 the ten-part series Wrecks To Riches for Discovery Real Time, but was replaced for the second series starting in December 2006 by former racing driver Amanda Stretton.
Butler-Henderson has in recent years broadened her media career outside racing and cars to become a general presenter. After co-hosting radio shows on Virgin Radio, in 2005, she presented a daytime television show for ITV called Date My Daughter in which a single man 'dates' three mothers after which they decide if he is worthy enough to date their daughter.
Personal life
Edit
In November 2007, Butler-Henderson married former Fifth Gear producer and current Top Gear studio director, Phil Churchward. From the autumn 2008 season of Fifth Gear, she began using her married name, being credited on the show as "Vicki Churchward".
At the start of the autumn 2010 season of Fifth Gear, she revealed that she was several months pregnant with her first child. On 15 January 2011, she gave birth to a daughter, Una Churchward.